Brand Your Business In Full Colour
Promoting your business or event on creatively designed stubby holders will never get old. Stubby holders have been a great useful product for those lovers of cold, ice-dripping, refreshed chilled schooners, beers and sodas.
At StubbyHolders, we supply a vast range of full-colour stubby holders - from your standard sized to neck-high. Our Phoenix Photo Stubby's are our most popular stubby holders. These full-colour stubby holders enhance the look of the stubby holder itself and give great attraction to your clients and friends at events. We can print unlimited colours at a high photo quality finish that is worth every cent. They are perfectly sized and fitted stubby holders for all beverages while also having that classic style.
Our photo stubby holders are made out of high-quality 5mm neoprene wetsuit material. They are ideal for weddings, bucks night, promoting new products, showcasing your brand and company. If you want more than one or two colour prints with our stubby holders, you sure can! You can print absolutely anything you wish to promote on our excellent stubby holders inexpensively.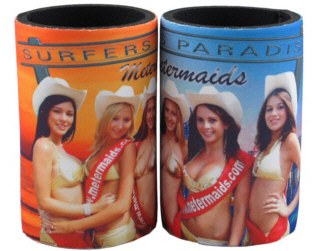 5 August, 2015
The Stubby Holders Team